Saturday 2020-06-06, 10:43:34
2007-12-04 15:10:43
Meeting With Central Bank Governor. Yesterday, I had a meeting with Ilmars Rimsevics, Governor of the Central Bank of Latvia. A very interesting meeting, which will probably lead to more exchange of ideas and experience. Talks about Latvia and the Baltic region, Europe and reforms.

Latvia has experienced very high growth rates, above ten per cent a year, in recent years. Inflation has however risen sharply and the current account deficit is large. It now has to to a soft landing, getting down to some seven per cent growth a year.

Latvia has of course boomed largely due to free-market reforms. But it is also striking to see figures of how open Latvia is. Trade is booming and already at high levels, and forign ownership in, for example, banking is very high (78 per cent). To a large extent, this is Swedish banks.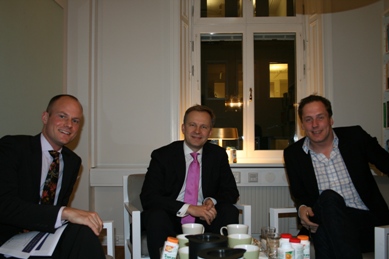 <-- Home